One Big Plant Sale
Each year on Mother's Day weekend in May, Friends School of Minnesota puts on the biggest fundraising plant sale in the state, perhaps even in the Midwest! 
We stock a full line of annuals, perennials, climbing plants, native perennials, and vegetables, with selected roses, trees and shrubs and an increasing selection of fruit. A printed catalog of our offerings is available for reference, with a PDF version available in the catalog section of the site. Our online Find Plants tool lets you create a shopping list to bring to the sale.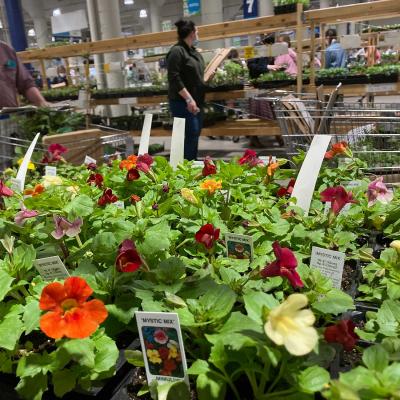 The sale's hours are:
Friday 9:00 a.m. – 8:00 p.m.
Saturday 10:00 a.m. – 6:00 p.m.
Sunday 10:00 a.m. – 2:00 p.m. (when everything left is one-third off)
Printed catalogs are mailed by late March each year to anyone on our mailing list or can be found at many libraries, coffee shops, and natural food co-ops in Minneapolis and Saint Paul. 
If you'd like to get on our mailing list, please email [email protected] – include "add to plant sale list" in the reference line. If you'd like to get an email reminding you when the catalog is posted online instead, sign up here.
Almost entirely volunteer-run, including school parents and students, the Friends School Plant Sale has become a Twin Cities institution with loyal fans. 
You can become a volunteer (which gives the added incentive of being able to shop at the Thursday pre-sale event). Signups are open February 1 through the week of the sale.