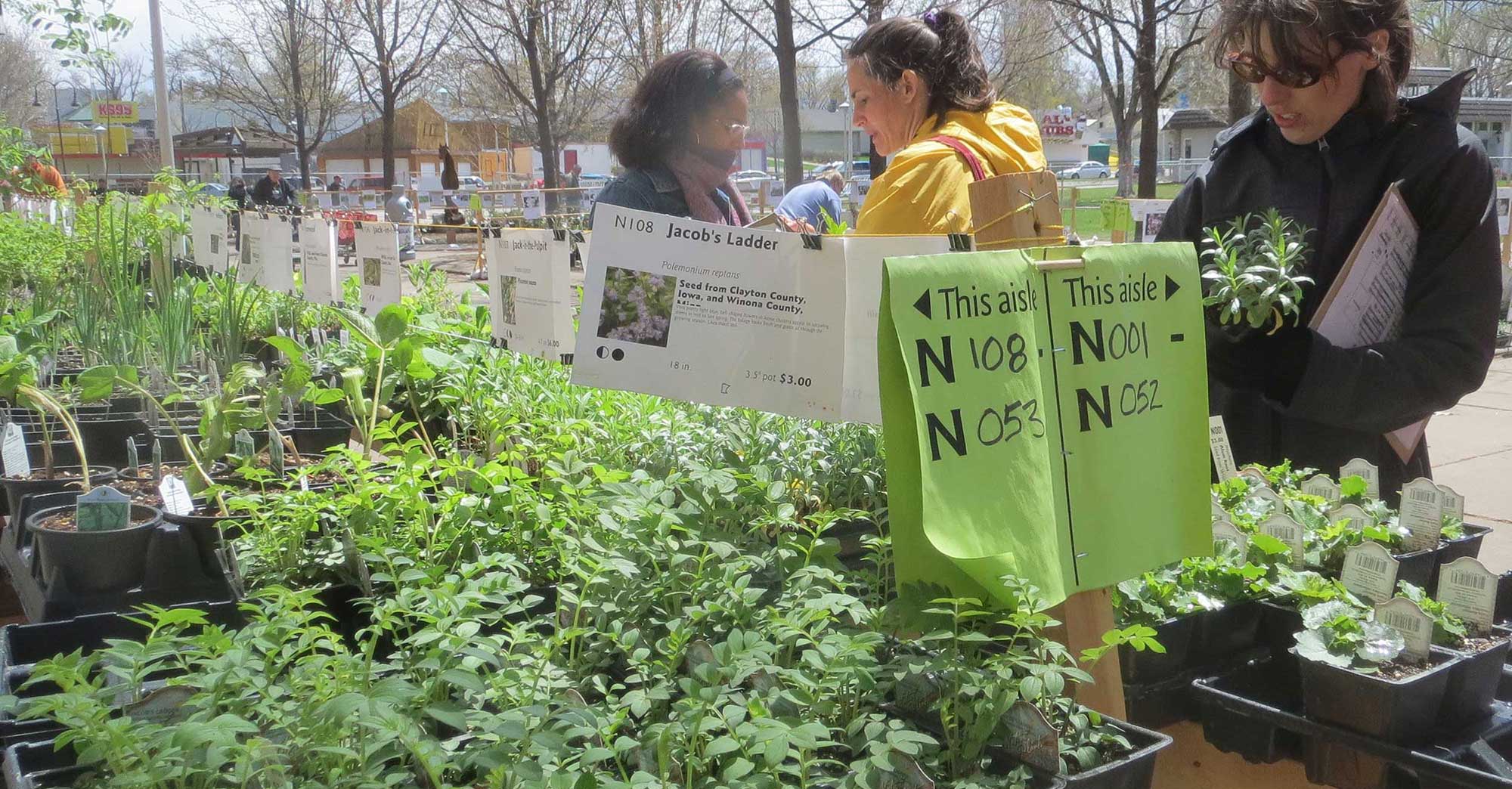 The Friends School Plant Sale is not a normal store: some call it the great Minnesota get-together for gardeners. The experience and amount of waiting changes through the day, so the first thing to do is decide the best time for YOU to shop. 
What's most important to you?
Minimize crowds: arrive Friday after 3:00 p.m., Saturday after 2:00/3:00 p.m., Sunday after 12:00 noon. OR volunteer and shop Thursday later afternoon or evening.
Get the plants you want: arrive Friday by 7:00 a.m. or earlier, Saturday by 9:00 a.m., Sunday by 9:30 a.m. OR volunteer and shop Thursday afternoon.
Get the best deal: On Sunday, all remaining plants are 1/3 off. We're open from 10:00 a.m. to 2:00 p.m. (Volunteers get half off.)
Plan your shopping list with the catalog and our Find Plants tools. Once you know what you're looking for, we provide floorplan of the sale, including a very detailed map the day before the sale starts. (Paper copies are available at the entrance, too.)
In the Doing the Sale section of the site, you'll find:
Getting In explains the wristband system you might encounter if you arrive during the earlier parts of the days, and also has info on getting to the sale at the State Fair Grandstand, parking, and accessibility. 
Shopping info that explains the all-important need to track your purchases while shopping, and other details about how the sale is organized. Oh, and lots of people bring their own carts!  
Checking Out info that gives some detail on our tallying method, which is separate from payment, plus the curbside plant pickup area.
Want even more shopping tips? 
Here's a blog post by an experienced shopper. 
And one about the carts and wagons people bring to the plant sale.
And a new update about bringing your own boxes.