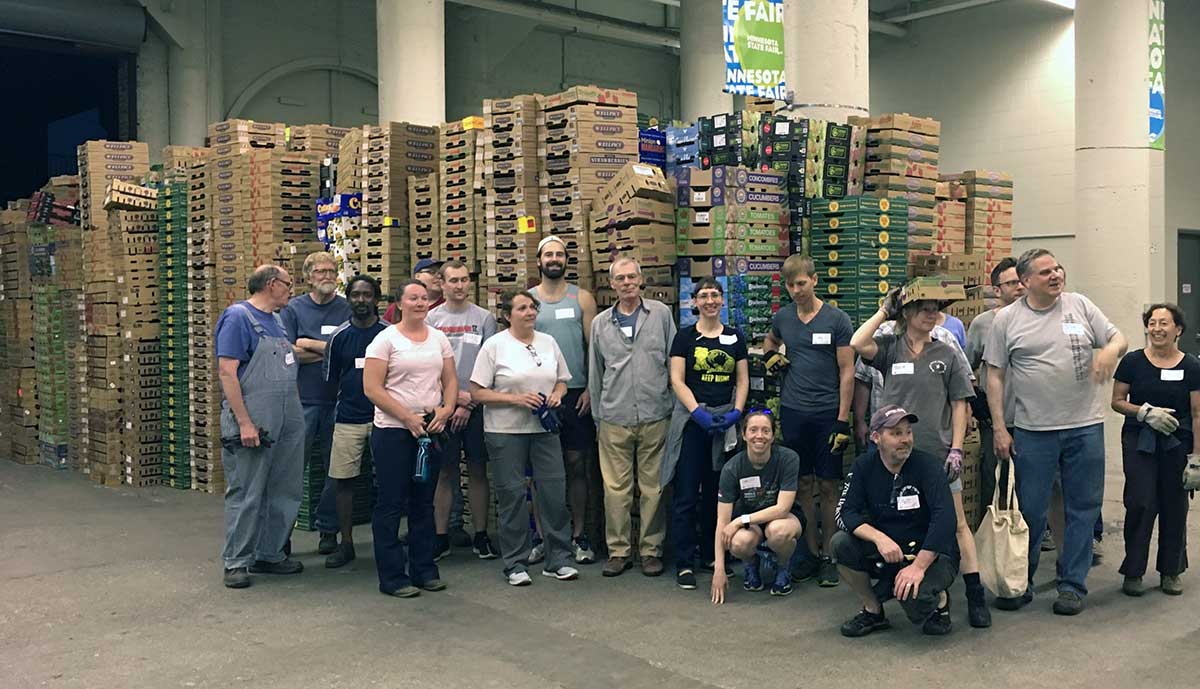 These box-gathering volunteers from a past plant sale had just spent four hours trucking stacks of grocery store strawberry and tomato boxes that were stored in garages, porches, and sheds. The boxes had earlier been picked up and driven from stores all over the Twin Cities.
_________________
Every year we take big steps to make our plant sale as earth-friendly as possible. After all, we green thumbs love nature, right? 
We're working toward new compost and recycling goals with our food vendors and the State Fair. We're building systems that will grow in sustainability for the long haul. We're also benefiting from environmental clubs at Friends School and the Saint Paul Conservatory for Performing Artists. This year we have an exciting zero-waste goal: all waste ­possible will be composted, recycled, or sanitized and made into a community educational art project, ensuring that little goes into a landfill. 
Our tradition of reusing boxes 
Each year plant sale shoppers use about 15,000 strawberry and tomato boxes to carry home all of their plants. Dozens of volunteers spend the seven weeks before the sale making special trips to grocery stores and hauling 30–40 boxes each time to their homes. Just before the sale, other volunteers gather all the boxes and bring them to the Grandstand. 
Getting a second use out of these boxes is great! But that's a lot of driving around. And some years, even so, we must buy boxes to have enough. 
How can you help? BYO boxes! 
Help us by picking up the boxes you will need from your local grocer. When shoppers do this, it saves fuel, and still lets us reuse these awesome boxes that stores otherwise dispose of.     
Note: Our volunteers will do their best, as always, to collect as many boxes as they can before the sale. There should be boxes available for ­people who are unable to bring their own. 
So please, if possible: 
Bring your own boxes or other carrying containers. 
Bring any extra strawberry or tomato boxes you might have in your garage (I know I do) — or pick up a few extras and leave them with us for ­others to use. 
Check out our waste stations and the zero-waste booth in the Garden Fair to see what we're ­working towards as a school and community. 
If you have a reusable drink container for your beverage purchases, bring that along too. 
And most importantly, enjoy the Friends School Plant Sale 2023!  
—Maggie, the zero-waste coordinator