Wow! What a sale! We bought more plants than before, and YOU all bought more plants than before!
All remaining plants are 1/3 OFF on Sunday, May 14. The sale is open from 10 a.m. to 2 p.m. at the State Fair Grandstand. Wristbands will be distributed starting at 9 a.m.
We have had a very busy first two days of the sale, and the remaining inventory reflects this. Many sections have very little left, but there are some pockets of treasures!
You can tell if a plant is sold out already in the Find Plants section of our website.
Yes, much of our inventory is sold out, but you can still find some great plants. Here's what you might find:
Perennials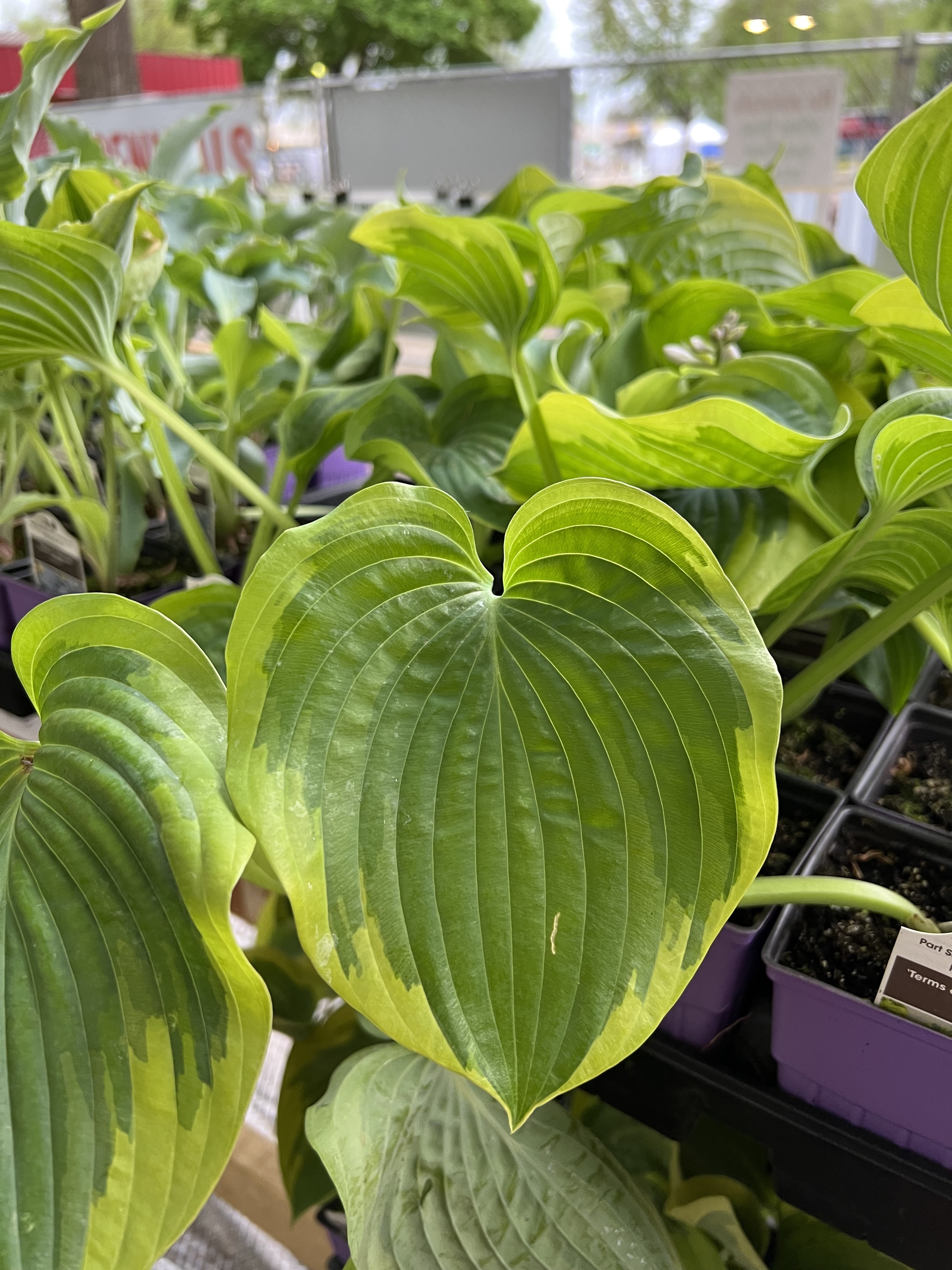 You'll find the best selection of plants in the Perennial section. They are just through the open doorway on the right when you enter the Grandstand. You'll find bleeding hearts, blackberry lily and one from the new series of bugleweed, Feathered Friends Fancy Finch. Look for the Chick Charms Golden Nugget, a lovely, tiny, golden plant in the hen and chicks family. If you're looking for hosta, you're in luck! There are many varieties of hosta remaining, from tiny 6" plants to ones that will be 36" when they are mature – even if they look tiny now! A few other plants that remain include mums, some phlox, pasque flower, ornamental onion and the Firewitch hardy pink. Oh, and try the red pussytoes!
Bulbs & Bareroots (within Perennials) 
There are a number of varieties of daylilies and lilies, with plenty remaining.
Climbers 
You'll find a decent selection of clematis and some other perennial climbers.
Miniatures & Succulents
Good selection here!
Native Perennials & Grasses
There are some overlooked treasures in this section! We still have blue cohosh, culver's root, cinquefoil, red baneberry and some assorted ferns. The stiff gentian looks like nothing, but it'll come up! Don't miss the Michigan lily or the great blue lobelia. As for Grasses, there is just some switchgrass and Japanese Forest Grass.
Shrubs, Trees & Roses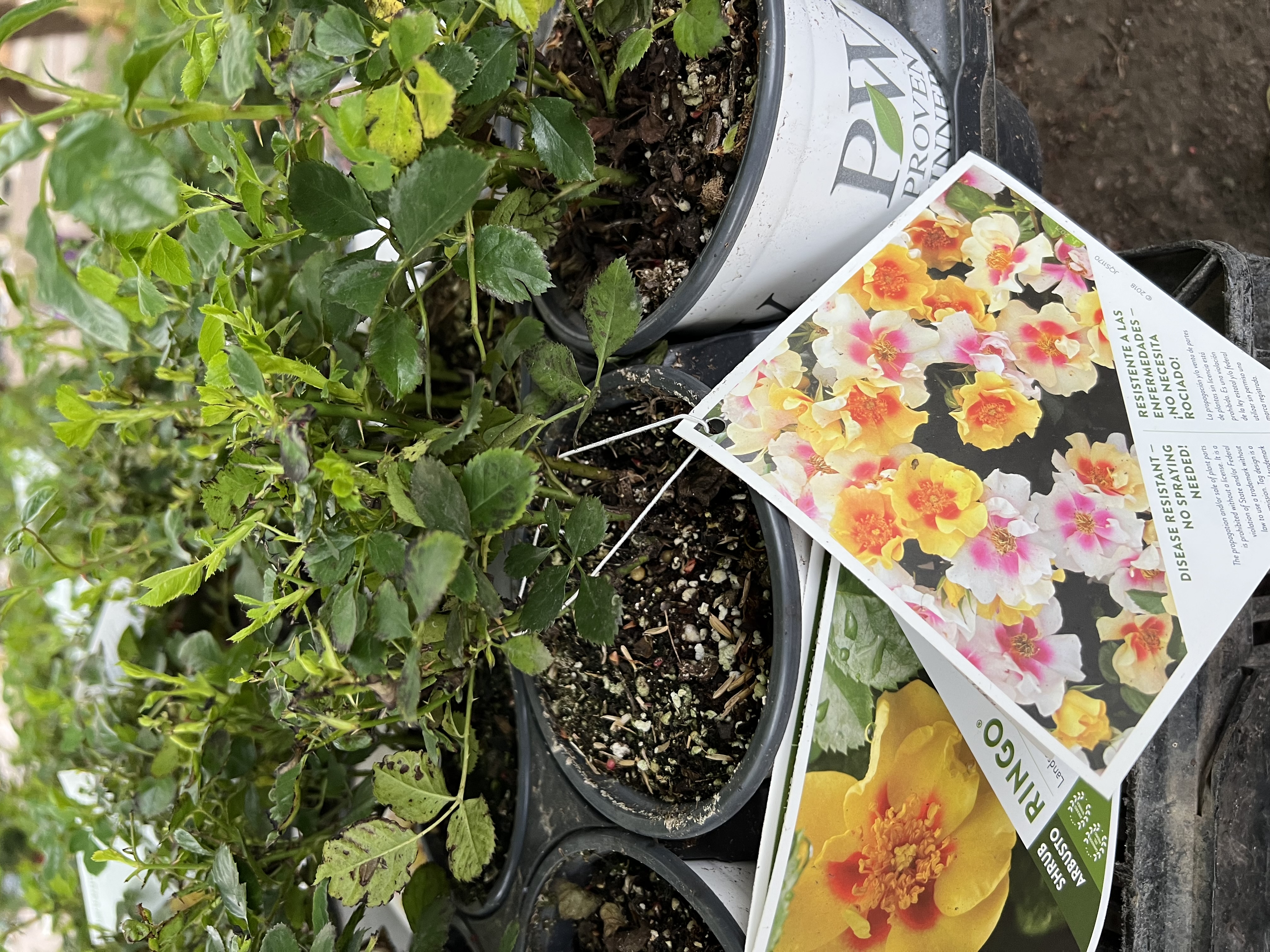 We've got a good selection of our original rose offering remaining, including some climbers and Northern Accents. There are also buttonbush, some snowberry, and elderberry. A few evergreens.
Fruit 
The fruit is mostly gone, but there are still some apple trees (several varieties) and a few pear and plum trees. Interesting fruit finds — if you want something new — include jostaberry, persimmons, and alpine strawberries. Another new plant to try is the Musk Strawberry.
Vegetables 
Our Friday and Saturday customers were hungry for vegetables — because there are very few tomato plants left and no peppers! You will find onions, broccoli, mustard greens and ground cherries.
Herbs 
Not much left here! Just some oregano, some types of mint, sage and shiso.
Annuals 
Not a great selection, but there are lots of a few types of plants remaining, including coleus for sun, gerbera daisies, dahlias and licorice plant. There are quite a few marigolds left – they aren't blooming yet, but they will! There are some million bells, nice salvia, and annual phlox. Don't miss the popcorn plant (it smells like...popcorn! We think people missed it because we put it under a new name: Senna, Popcorn (catalog #A410). Don't miss it!
Unusual & Rare Plants 
There are a few good plants left, including caper bush, dwarf palmetto and Itoh peonies. There are some German lady's slippers and hellebores, too.
See you tomorrow!
We've had a great sale so far, so there isn't as much left as in some years. However, there are some great gems left, and if you're willing to try something new, you'll find some great deals! Plants will go fast.
We hope to see you on Sunday.