Cottage gardens are the most Quaker of gardens. If there was ever a garden grown by consensus, this is it; annuals self-sow and pop up all over, perennials wander around in a kind of easy harmony and comfortable disarray. Formality doesn't work well in these gardens: no straight lines, no formal names, don't take yourself too seriously. These are gardens for sharing a pot of tea with old friends (no lattes!). And I have to put in a word for diversity; the key to a good cottage garden is lots of different, exuberant, mostly flowering plants. Lots. You can't go monospecific here; we're looking for a compatible, multicultural riot.
I think I've taken that analogy far enough, but you know what I mean.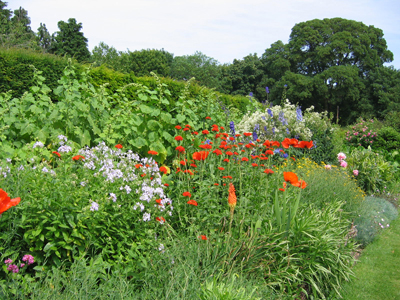 Most of us who live in the city don't have cottages. Maybe we'd like one, but instead we have that 1950s corner rambler. Or whatever. Does it matter? I do think there are some houses that don't tolerate the kind of loose informality that characterizes a good cottage garden. I used to live in a beautiful but formal prairie-style house in a beautiful but formal neighborhood which shall be nameless. I kept trying to plant lady's mantle and columbine and sweet black-eyed susan, hollyhocks and daffodils and snowdrops, and for the most part they just looked silly. But most houses are not that demanding. That '50s rambler, for example, would do wonderfully with catmint wandering along the front walk, bee balm by the bird bath, a few William Baffin roses climbing over the front door…
Some plants seem to appear over and over again in cottage gardens. Usually this means that they have a certain softness, or a certain exuberance, or they just look really good with other plants. One of my favorites, and one you see in lots of English cottage gardens too, is Lady's Mantle, Alchemilla mollis. The first time I remember noticing it was in a seaside village in northern Maine, spilling over the sidewalk in front of the library. With its tiny chartreuse sprays of flowers, it is one of those plants that, while unflashy in itself, unifies a garden–a useful attribute when we're talking about barely controlled chaos. And you can underplant it with small early season bulbs.
Catmint (Nepeta sp.) and lavender (Lavandula sp. ) are frequently a good grayblue backbone of the cottage garden. Hardy geraniums (Geranium sp., not Pelargonium) are easy, long-blooming and tolerate some shade, and delphiniums, pinks, phlox (creeping and tall), and yarrows are excellent. For shade, think Heuchera, foxglove and Brunnera. Roses are good; Clematisis fine. Annuals fill in empty holes. And then you throw in some vegetables and some grasses and you're on your way to the true cottage spirit.
In the end, any plant can be a cottage plant. There are no rules about what to plant except one: plant what you love. It's okay just to like some plants more than others; I learned that from my grandmother who really did have a cottage and who knew about compost before anyone else. Surround yourself with fields of plants you love and the world will be a better place. And isn't that what gardening is really all about?
Photo of Gertrude Jekyll's Long border at Manor House, Upton Grey, Hampshire, UK by Aquilineyes from the Wikimedia Commons.